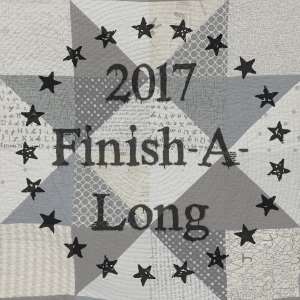 I didn't get around to joining in the 2016 Finish Along (FAL), but I thought I would join it alongside the UFO Challenge 2017. I have even found all but one project and taken photos. Those that aren't being worked on at the moment are grouped on a shelf in my cupboard in individual bags waiting for some love.
1. Dear Jane - only needs one border added and then quilted.
2. Garden BOM, The blocks for which are complete and I have to unpick my first unsuccessful attempt at the sashing.
3.
Jan Krentz project - this stalled because I didn't like one of the techniques used.
4. 100 blocks - fabric for the sashing was ordered in the Simply Solids sale recntly, so there's no excuse. I have started sashing the blocks this week and have made good progress.
5. Thimbleblossoms "colourway" sew along - all of the blocks are cut out ready to piece and I have completed 10 blocks. I may take this with me to a retreat at the end of January.
6.
It's a small world 3 out of six panels are complete apart from some appliqué.
7. Green tea and sweet beans just needs some extra borders
9. TQS BOM has a drawer to itself and needs a lot of work. If I complete the selected project before the end of the month, I will work on this project. There is a lot of work to be done and not even the first month is complete.
11. Makers tote - pattern purchased and I may make this at retreat in either January or March with the following fabrics
12. One hour basket which I am piecing the outside from scraps so will take longer than an hour.
Sewing machine wall hanging to which I want to add a border didn't make my list of twelve.